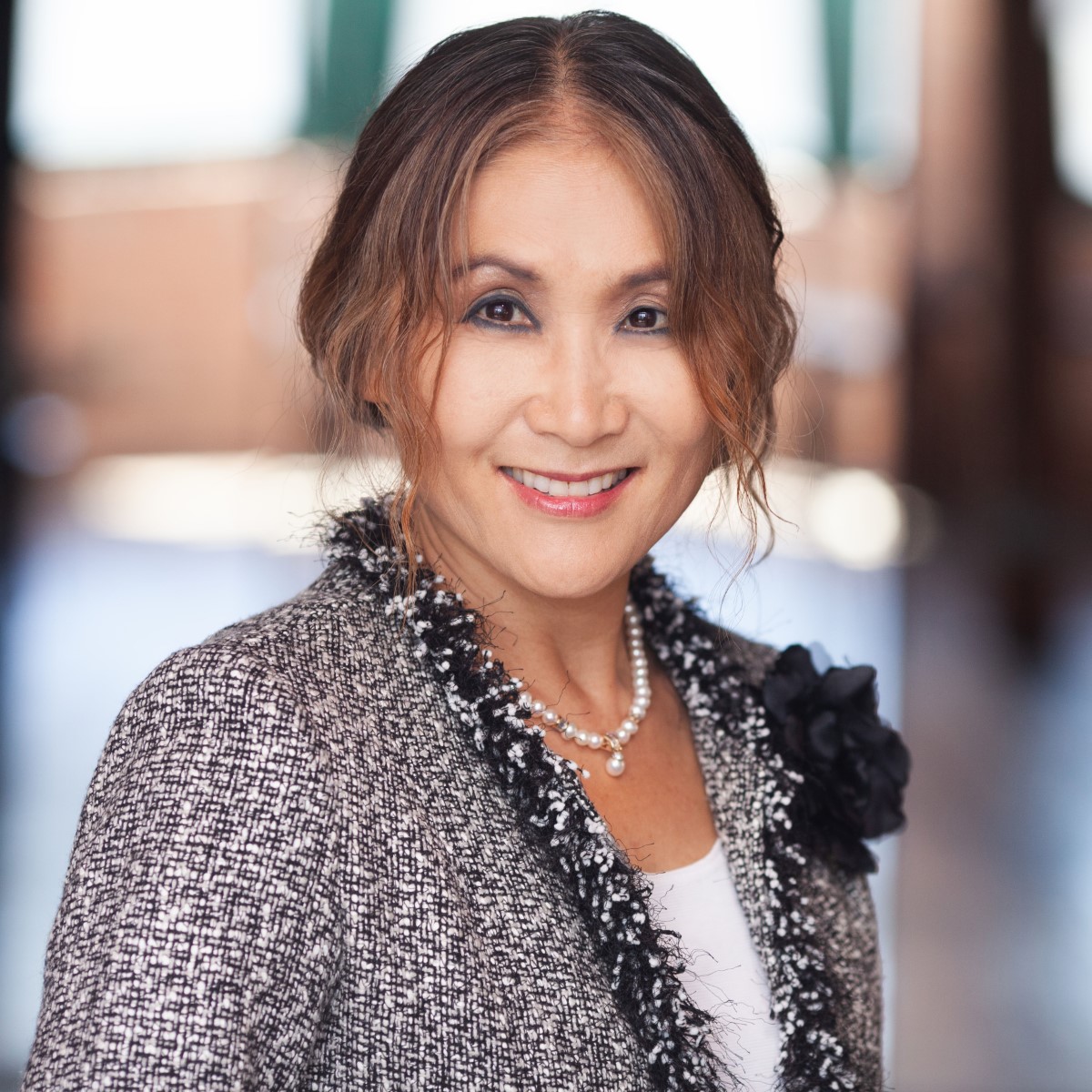 Aelee Han
Local Real Estate Broker
Aelee has successfully served the Chicagoland area and Northshore real estate market for nearly ten years. As a consummate professional and skilled negotiator, Aelee provides her clients with an uncompromising high standard of service. Aelee commits time to building meaningful relationships with each of her clients. The depth of connection affords her a comprehensive understanding of her buyers and sellers essential needs and aspirations. This knowledge is fundamental to Aelee's continuous ability to provide personalized solutions for all of her clients.
Get Started Today!
Client Testimonials
What clients have to say about working with Aelee Han - Chicagoland Real Estate Agent
am a first time home buyer and Aelee made the experience and process amazing! Aelee stayed in communication with us throughout the whole process. Her response time was impeccable and she always responded with knowledgeable information. She guided us through the process with honest feedback and she is very trustworthy
Aelee helped me purchase a condo in the city. Throughout the process she provided excellent service. She is welcoming, knowledgeable, sincere, and always plans ahead. I appreciate her efficient workflow, which saved me a lot of time and worries. As a first-time home buyer, I am grateful to have Aelee guide me through the process. Her experience with properties in downtown Chicago proved invaluable. I strongly recommend Aelee and would love to work with her again.
Aelee Han was wonderful to work with! As first time home buyers, she guided us step by step throughout the entire process. Aelee was always very quick to respond to our calls and emails and also a great negotiator. I would highly recommend working with Aelee!
Aelee was amazingly productive and very well-prepared to sell our property. THe brochure was of very high quality with very elaborate and professional pictures. It is quite remkarable the fact that the property was sold only after three days being in the market. We could not be happier with the very professional assistance we got from Aelee and the BHHS organization. We will strongly recommend Aelee for any of our friends and acquaintances who may need a realtor.
I switched from my original agent because of her enthusiasm and positive energy.After our initial contact I learned that she has great knowledge, passion and initiative. Her ideas on preparing the property for sale were invaluable.She was always available to talk and she would contact me every week with the status of the property. Her enthusiasm and positive outlook were very helpful during a very stressfultime. Her demeanor during our conversations were always calm and to the point. Aelee's dedication to me and my wife and her ability to make us feel as if we were her only clients made us confident that she would continue to work to get our property sold.I wish I would've known Ailee prior to buying and selling my previous properties. I will definitely call her again and recommend her to anyone that is looking for a real estate.
To work with a professional like Aelee who guided us through the process and understood our needs was a wonderful experience. She did so much for us, assuring that our son who will be new to the Chicago area was in a safe neighborhood and close to public transportation for his work. We highly recommend Aelee to anyone would be relocating to the Chicago area. If you wish to have a potential client call us for a recommendation that would be welcomed.
Aelee Han was knowledgeable and kept us well informed throughout the whole process, giving us essential advices. She is thrust worthy, friendly and with a very positive attitude always, all good reasons to recommend her work. Thank you Aelee!
I was so lucky to find Aelee to help me find the best possible home in my price range. She was so helpful, patient, knowledgable and listened to my requirements, never trying to talk me into something more than I needed or would feel comfortable with financially. I really felt so comfortable working with her and felt her totally honest and sincere. A real jewel!
Professional, polite and prompt. These are all traits exemplified by Aelee Han as a realtor. As a new resident to Chicago, Aelee provided us with an explanatory overview of the city and suburbs and to help us determine the ideal location for our lifestyle. Having relocated from oversees, we were determined to settle in a permanent home, even if an extensive search were required. Aelee was with us every step of the way – day in and day out. She located the perfect property for us and we are excited to call it our new home. Thanks, Aelee for not only going the extra mile for us, but going the extra mile with a smile the whole way!
Aelee Han was my realtor; and quickly found me a buyer and sold my property in Chicago within my price target. She was very professional; and the sale went through with no problems, within the required timeframe. I have since recommended her to other prospects.
It is with great pleasure that I unconditionally recommend Ms. Aelee Han as a highly qualified realtor. My experience of working with Aelee was nothing short of extraordinary. She is kind, diligent, and highly professional.
Aelee was awesome to work with, and we felt very lucky to have her on our side. She was very forthcoming and transparent about everything, and also very proactive and both marketing and showing our house.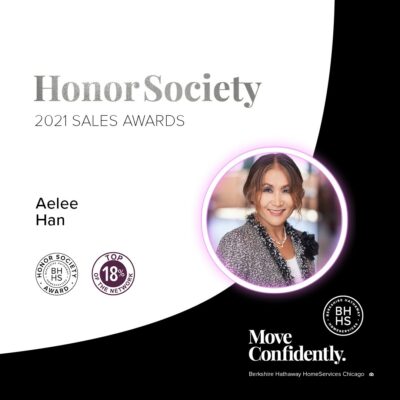 ★★★★★
Honor Society Award Recipient
2019 • 2018 • 2017 • 2016
Proud recipient of Berkshire Hathaway's Honor Society Award – awarded to the top agents of the company.
Featured Properties
A small collection of homes for sale - or recently sold - throughout Chicago and the surrounding suburbs.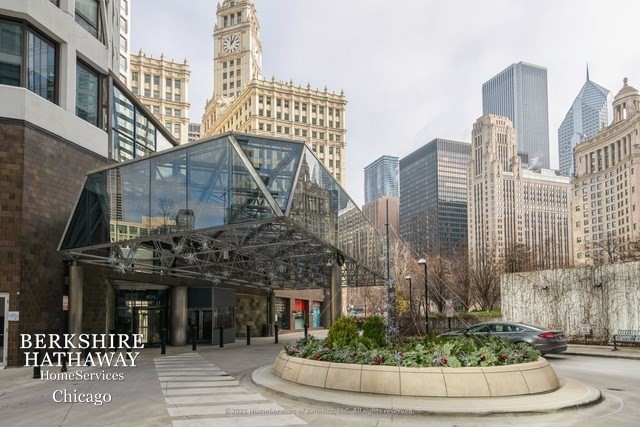 Join our mailing list
STAY IN THE LOOP
Market Updates, Neighborhood News, and More!
Stay up to date with the latest community market updates, neighborhood news, real estate trends, and more when you sign up for our newsletter!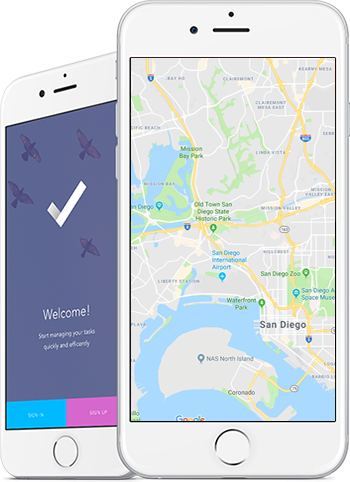 Search for Homes from Anywhere.
Using our state of the modern app provided by Homesnap, you can search for homes, see neighborhood information, or find out what your home is worth all in one app!
Available for iOS and Android
Looking to buy or sell a home? Let Aelee Han help you!
Latest News and Information
From local happenings to real estate trends, get the latest information here!
Homesnap looked at the data from 2021 for over 1 million Homesnap Pro agents nationwide, and Aelee was one of the select few to win a Top Agent Award! She earned this distinction based on her impressive productivity over the

According to a recent article by Crain's Chicago Business, we're looking at hot market throughout Chicago and the surrounding suburbs in 2022. The first week of 2022 also saw a leap in new listings, but it wasn't quite as big. About

For exceeding over $1 Million in sales for the month of December 2019, Berkshire Hathaway HomeServices Chicago is proud to name Aelee Han as one of our -million dollar agents. Whether you're a buyer or a seller, Aelee will